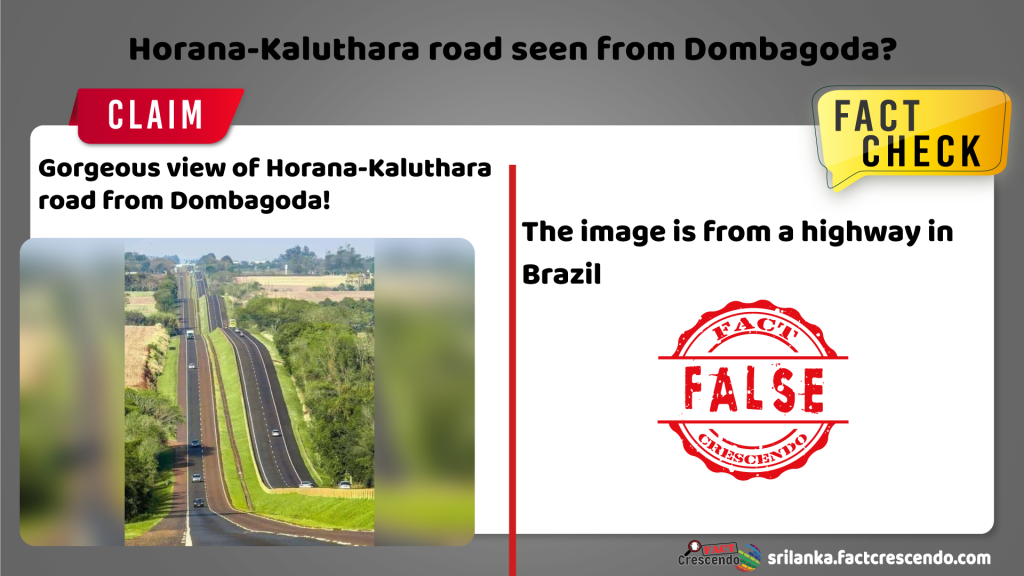 A post with an image of a highway had been shared by Facebook user Chaminda Kalupahana on 30th of September claiming "හොරණ කලුතර ප්‍රදාන පාර දොබගොඩට දිස්වන ආකාරය …ලස්සනයි නෙ…." meaning "how beautiful is the view of Horana-Kaluthara road when seen from Dombagoda"
With few highway and expressway projects expected to be completed in near future this post went viral with over 3000 shares.
Of course, some users were disputing the image stating that this image could not be from Sri Lanka, hence we decided to do a fact-check.
Fact Check (සත්‍ය තොරතුරු විමර්ශනය කිරීම)
In order to verify Horana – Kaluthara main road we checked the details given in the Road Development Authority (RDA) Website. As per the RDA website we found that Horana- Anguruwatota- Aluthgama Road (Closest equivalent to claimed road) is a Class B road of approximately 54 kilometers and classified as B157.
We checked the same with the Google Maps and Maps Street view both and it was evident that there is no scenery similar to that of the claimed photo in the area nor could the Horana- Anguruwatota- Aluthgama road be seen from Dombagoda as below highlighted in yellow.
We decided to do a Google Reverse image search and found that this image was being used heavily on Instagram and Twitter.
Further investigations revealed that, one of the clear images of the claimed photo, found on June 25, 2019. Herea person named Enrique Coleman titled "Highway that takes the Iguacu Falls in Brazil" had posted the image to Shutterstock.
Also, we noted that in this image the vehicles are driven on the right side of the road (steering wheel to the left), whereas in Sri Lanka it's the opposite (left hand driving with steering wheel to the right) which is clear giveaway. Boxed area in the below image which belong to Brazil (as mentioned in the above photo on Shutterstock) the vehicles are driven on right side!
Conclusion:
From our investigation, it is evident the claim that "how beautiful is the view of Horana-Kaluthara road when seen from Dombagoda" is totally false. The image is from a highway in Brazil

Title:Fact–Check : Horana-Kaluthara road seen from Dombagoda?
Fact Check By: Sathyajith Subasinghe
Result: False